Rachel Traghella


Rachel is bky's studio manager. She is most likely the face you will see when you check into your class, the person you will speak to when you call, and the person you will communicate with through email. She began her yoga-journey at bky about 4 years ago and absolutely fell in love. Rachel sought out yoga as a way to help manage her overbearing anxiety, and to become more physically fit and flexible. While becoming more flexible and strong, the practice of yoga, for her, has proven to be useful far beyond a physical level. This life-changing practice is what inspired her to become a teacher and share her love with others.

She completed her 200hr teaching training certification through Theresa Murphy, in 2014. Her teaching style is Vinyasa based. She guides with compassion and playfulness...focusing on safe alignment while also encouraging students to explore in each pose, moving in whichever ways feel natural, interesting, and exploratory...making it truly a practice of what "you" need.

---
Kristen Varadian




Kristen has been practicing yoga since 2001. All of her life she has studied the art of physical movement through various dance forms. She earned her BFA in Dance Education and Performance from the Philadelphia College of Performing Arts. Continuing her education, she earned her BS in Physical Education and MS in Exercise Science from the University of Rhode Island. Finding yoga provided an outlet for her love of movement in a gentle way along with an interest in the physiological effects on the human body, mind and spirit. With this interest she has welcomed the teachings of Ana Forrest, her primary teacher, Catherine Allen, Beryl Bender Birch, Jonathan Bowra, Coral Brown, Ann Green, Brian Kest, Tias Little, Suzanne Manafort, Jill Miller, Theresa Murphy, Heidi Sormaz and Heather Tiddens.

Kristen is certified in Forrest Yoga Foundation and Advanced Teacher Training and Shiva Rea Embodying the Flow teacher training module as taught by Coral Brown. Completed Continuing Education in Forrest Yoga with Heidi Sormaz and Catherine Allen and Prajna Yoga with Theresa Murphy. Kristen has completed the RYT-100 Mindful Yoga Therapy for Veterans with Suzanne Manafort. Kristen looks forward to her own personal and spiritual growth as a Forrest Yoga Teacher and a Mindful Yoga Therapy guide. Kristen can be found teaching Forrest Yoga and Yin Yoga at Bodykneads.yoga, as well as Yoga for the Military and Yoga for Recovery at Shriyoga.org

---
Liz Butler

Liz has been a dedicated yoga practitioner since 2003. Training with Tom Gillette at Eyes of the World in Providence, she received her certification in Vinyasa Yoga in 2009. She is also trained in Prenatal Yoga, studying with Jacci Reynolds in the Pranakriya tradition in 2010. Liz believes that yoga can positively affect the well-being of any person open to the experience, and as a teacher is committed to meeting her students where they are. She strives to provide a non-competitive space for students of all levels to discover, explore, and grow their yoga practice. Her sequences are designed to spark courage, curiosity and kindness, while honoring the sense of vast interconnection and peace that yoga opens up within us.
---
Lori Goddard


Yoga Alliance, MFA.
Originally trained in the Vinyasa tradition, Lori completed her most recent training with Daniel Orlanksy in his Yoga of Energy Flow program which included study within the Vinyasa, Kundalini, Yin Yoga, Shadow Yoga, Yoga Nidra and Thai Yoga Massage disciplines. Curious about many kinds of traditions, you may find elements of any one of these styles in and amongst her classes. Finding joy in her own practice and in teaching, Lori hopes to share her enthusiasm for yoga to practitioners of any age and ability. In addition to mat yoga, she also teaches chair yoga. Alignment is a key element to her teaching but so is inviting students to find their own fluidity, ease, and grace within movement, breath and meditation. She continues her studies with Sara Davidson Flanders and has had the privilege of studying with, Naama Gidron, Josh Summers, Kate Greer, Doug Keller, Sarah Powers, Jennifer Reis and so many others.
---
Aeriel Arthur



Aeriel began her personal yoga journey several years ago after a neurological injury that significantly impacted her life. No longer able to simply get around and function as she once had she decided to look "outside the box" and open herself up to new possibilities that would aid in her healing. A certified Forrest Yoga instructor, Aeriel teaches in a variety of settings within the community including yoga studios and physical therapy offices. Utilizing her 25 years of experience as a Mental Health Counselor, she also teaches individual yoga-therapy specifically designed for individuals dealing with symptoms related to trauma, depression, anxiety, and addictions. In addition to yoga, she is also a certified Reiki Practitioner.
---

Joanie Flavin



Joanie has been in the healing field of yoga for 15 years. You may know her from Lotus Fire. She is interested in using yoga with students in a therapeutic way, whether it be managing an injury, trauma, life change or simply wanting a more personal yoga experience
.
Her expertise is in healing both the physical and mental body.
Joanie is trained in Forest yoga, as well as receiving her 200hr certification in the Prajna yoga discipline under the guidance of Theresa Murphy, and having a certification in Thai yoga massage therapy.
---

Bonita Guerrero


Bonita received her training with Raghunath and Sondra Loring at Sadhana Center for Mediation and Yoga in New York. She fuses the styles of power vinyasa, Forrest, and yin while integrating Bhakti, the yoga of love and devotion, thus creating classes that balance both effort and ease through breath and movement. Bonita has been a student of yoga for over 16 years and after having great release and healing during a difficult time in her life, decided she wanted to help others heal through yoga and began teaching.

Bonita holds a BS from Northeastern University in Cardiopulmonary Science and holds many certifications. These include: Certified Respiratory Therapist, Certified Holistic Health Coach through the Institute of Integrative Nutrition, Certified Fitness Instructor through American Council on Exercise, Certified as an Advanced Integrative Energy Therapist, Reconnective Healing Practitioner, and is a Reiki Master Teacher Healer. She is also accredited through the American Association of Drugless Practitioners.
---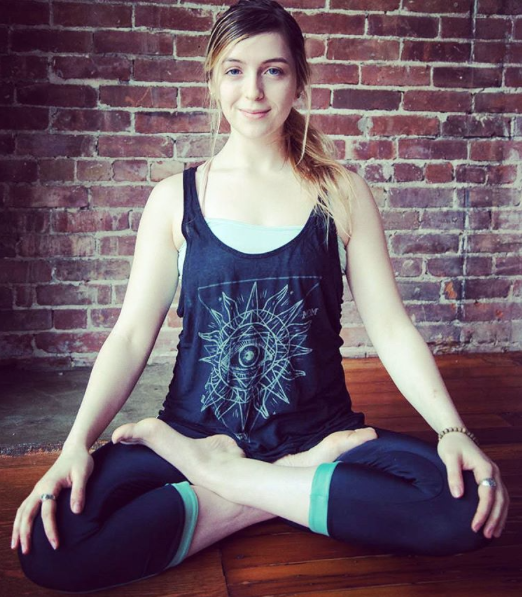 Allison Scott





Allison has been practicing yoga since 2007 and teaching since 2014. She has a very dedicated and heart-centered approach to the practice, and encourages her students to do the same. She believes in using yoga as a vehicle to come home to one's Self, and to shed light on those thoughts, patterns and beliefs that continually keep people from truthfully expressing their authentic selves to the fullest. She teaches a meditative style flow to promote introspection and contemplation using keen awareness of the breath. She received her 200 Hour Vinyasa Yoga certification in 2014 at Raffa Yoga with Christine Raffa and Jane Viscolosi. Driven by her gratitude of learning yoga at a young age, she also has a passion for bringing the healing practice of yoga to children. She is a certified Children's Yoga instructor through Kidding Around Yoga and teaches a variety of styles including All Ages Yoga, Storytime Yoga, and Yoga for Special Needs. She has also furthered her training and continues to deepen her knowledge and understanding of Yoga through the study of Ayurveda.

She received her 500 HR certification in Ayurvedic Yoga in July 2016 at Kripalu Center of Yoga and Ayurveda in Stockbridge, Massachusetts, where she continues to study Ayurveda on a path to becoming an Ayurvedic Health Counselor. Among her many teachers, some of her most influential teachers include Larrissa Hall Carlson, Scott Blossom, Dr. John Douillard, Balarama Chandra Das, and many more. In addition to Yoga and Ayurveda, Allison is a certified Reiki Level I and Level II practitioner.

---
Theresa Murphy
Theresa is a senior Prajna Yoga instructor under Tias Little. Her style and approach to teaching is unique, blending classical alignment, with a myriad of yoga asana disciplines and traditions. She actively studies Iyengar Yoga with Patricia Walden, Linda DiCarlo and Naama Gidron, other major influences are Sarah Powers, Erich Schiffmann, Dharma Mittra, Tias Little and others. Theresa is currently a student of the Insight Yoga Institute, a 750 hour program directed by Sarah Powers, studying spiritual psychology, Ayurveda, Chinese medicine, Yin Yoga, Taoist Yoga and Shadow Yoga. She has been teaching yoga since 1998, practicing the disciplines since 1989, studying the wisdom teachings since 2000, additionally with 6 years experience running two yoga studios and 4 years running a teacher training program in Omaha, Nebraska she lives the yoga! Her classes are fun, challenging and uplifting, and can take you places you never thought you'd go! Theresa does not teach at our studio regularly, but she is always teaching workshops and special classes here. You don't want to miss her when she comes!


She also is currently running a "pay as you go" 200hr Teacher Training Program, part of which is held at our studio. Click here for more details, and feel free to contact her for course dates or other questions regarding the training -- info@theresamurphy.net


Learn more about Theresa on her personal web site!
---