Lisa Golde Picerne, Studio Owner
Hi. My name is Lisa and I am the owner of body kneads yoga. I was first introduced to yoga over 12 years ago by my now husband, and have been on the path of disciplined study ever since. Recently I completed a second RYT-200 studying under Theresa Murphy in the Prajna Yoga discipline. I also enjoy practicing under Peentz Dubble in the Iyengar Yoga tradition. I am registered with Yoga Alliance at the E-RYT 500 level, having received two of my official certifications from my beloved teachers and friends; (the late and amazing) Dave and his wife Cheryl Oliver of Scottsdale, Arizona. There we studied hatha yoga in the Ashtanga tradtion but also began a deeper study of the Sanskrit language, Patanjali's Yoga Sutras, and Vedic chant. I continue to steep my knowledge with other nationally recognized teachers including; Dharma Mittra, Tias Little, Sarah Powers, and Nicolai Bachman. My yoga teaching style draws from many traditions: the physical discipline of Ashtanga; the alignment focused Iyengar tradition; the subtle way of Prajna Yoga, and the quiet, compassionate and balancing teachings of Sarah Powers in the Yin style of yoga. My classes will always have elements of yoga philosophy woven into the asana practice offering due respect to the wisdom teachings. I believe every person who comes in to practice yoga has all the tools they need to be well balanced and happy. My responsibility as a teacher is to help each person realize that and make space for him or her to realize their own inherent gifts for a more integrated life.
Since I believe yoga is for every body, I cover a broad spectrum of ages in my teachings. Although I do not teach yoga for children specifically, many people who practice at body kneads yoga feel comfortable enough to bring their children to class with them and practice as a family. I wish you well on your path. Email me, I would love to hear from you! Lisa@bodykneads.yoga

---
Liz Butler

Liz has been a dedicated yoga practitioner since 2003. Training with Tom Gillette at Eyes of the World in Providence, she received her certification in Vinyasa Yoga in 2009. She is also trained in Prenatal Yoga, studying with Jacci Reynolds in the Pranakriya tradition in 2010. Liz believes that yoga can positively affect the well-being of any person open to the experience, and as a teacher is committed to meeting her students where they are. She strives to provide a non-competitive space for students of all levels to discover, explore, and grow their yoga practice. Her sequences are designed to spark courage, curiosity and kindness, while honoring the sense of vast interconnection and peace that yoga opens up within us.
---
Dr. Wayne Clairborne


Dr, Wayne is a practicing OB/GYN physician in the RI community and is a Clinical Associate Professor of OB/GYN at The Warren Alpert School of Medicine at Brown University. He has delivered over 6,000 babies in 31 years of practice. He is yoga trained at the 200hr level through Yogaworks and has attended many workshops in addition to this to augment this training. His desire is to bring obstetrical knowledge into the yoga arena in order to create an amazing pregnancy experience.

---
Julie Casey


Julie is a dedicated yogini in Shiva Rae's Prana Flow Vinyasa Yoga. After years of suffering with chronic back pain she found yoga to be the solution. She is a true believer in the physical, mental and emotional benefits of a yoga influenced lifestyle. Julie creates space for her students to re-energize through the practice of Vinyasa flow. Her classes focus on gaining flexibility and strength through integrated postures in a relaxed, kindhearted environment.



---
Kelly Fenton


Kelly is a blue belt Nia instructor. She has been teaching classes for 8 years in Vermont and Rhody. She shares her knowledge of Nia, yoga and meditation as well as her love of movement, energetic spirit and creativity in each class. The blend of these elements is a unique experience taught from Kelly's heart. Believing that movement is key to living a joyous life, she invites all students to dance their way to health and happiness.
---

Joanie Flavin



Joanie has been in the healing field of yoga for 15 years. You may know her from Lotus Fire. She is interested in using yoga with students in a therapeutic way, whether it be managing an injury, trauma, life change or simply wanting a more personal yoga experience
.
Her expertise is in healing both the physical and mental body.
Joanie is trained in Forest yoga, as well as receiving her 200hr certification in the Prajna yoga discipline under the guidance of Theresa Murphy, and having a certification in Thai yoga massage therapy.
---

Bonita Guerrero


Bonita received her training with Raghunath and Sondra Loring at Sadhana Center for Mediation and Yoga in New York. She fuses the styles of power vinyasa, Forrest, and yin while integrating Bhakti, the yoga of love and devotion, thus creating classes that balance both effort and ease through breath and movement. Bonita has been a student of yoga for over 16 years and after having great release and healing during a difficult time in her life, decided she wanted to help others heal through yoga and began teaching.

Bonita holds a BS from Northeastern University in Cardiopulmonary Science and holds many certifications. These include: Certified Respiratory Therapist, Certified Holistic Health Coach through the Institute of Integrative Nutrition, Certified Fitness Instructor through American Council on Exercise, Certified as an Advanced Integrative Energy Therapist, Reconnective Healing Practitioner, and is a Reiki Master Teacher Healer. She is also accredited through the American Association of Drugless Practitioners.
---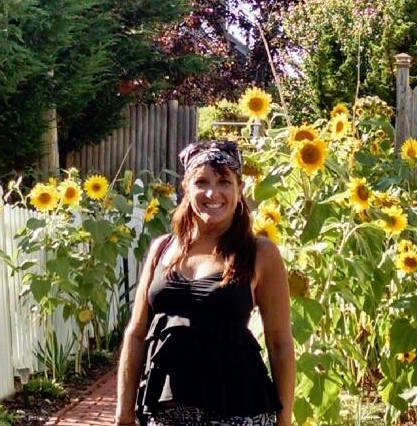 Lesley Seaback
Lesley found herself in her first yoga class over 18 years ago. Previous to yoga, she was in a series of accidents and was seeking more of a holistic approach to pain management.
That first class struck a connection linking her mind, body, and spirit. It had been some time since she had felt that experience of being present without any distractions. Yoga began to speak to her from that point on. It gave her a place to put everything on hold and to be present and shift my thoughts and actions from DOING into BEING. This learning of meditation in motion has brought her full circle to being a teacher for over 13 years.
She is 200hr certified and has studied and practiced with many master yogis such as Baron Baptiste, Ana Forrest, John Friend, Tias Little and Bryan Kest. All contributing to her eclectic style of teaching.
Lesley is devoted on this journey to teach and educate students of all levels...bringing mindfulness, while focusing on sensation within and around you. She tries to lead her students into self-acceptance, awareness and meditation in motion. Her heated vinyassa classes speaks to all levels.
---
Steve Ferrara
Back in 2011 Steve found himself in a yoga studio for the first time and was immediately hooked because of the peace of mind he was left with. From that day, he instantly immersed himself into his practice, meeting on his mat almost daily. Steve believes that yoga is more than just shapes that we make with our bodies. He is always reminding his students that if you give to the practice (both mentally and physically), it will give back.
In 2014 he completed his first Yoga Teacher Training with Theresa Murphy in the Prajna Yoga discipline. Steve has practiced with many nationally recognized teachers including Dharma Mittra, Ana Forrest, and Tias Little. When leading an asana practice, Steve tries to offer what he personally finds useful in his own practice. His classes typically involve smooth, strong movements, with attention to alignment and breath, giving his students time to feel and explore into each posture.
---
Aileen McDonough
A freelance writer, small business owner, and mother of two, Aileen was balancing a very busy life when she learned to meditate through a study at Brown University a few years ago. She currently teaches a (free!) meditation class here at bky, on the 1st Monday of every month. The practice of meditation has given her more peace, more time, and more joy than she ever could have imagined. She is eager to share meditation with others as a way to simply be. (Aileen also practices yoga at body kneads and loves it!)


---