Hoopyasa: A hula hoop & vinyasa yoga workshop

with

Allison

Scott
Sat, Sep 30, 2017 at 11:00 am - 12:45 pm
Merge two magical forms of meditative movement and joy: hula hoop dance and vinyasa yoga. The hoop will be used as we flow through various yoga postures, with some extra time at the end of class for free-play.
The hula hoop can be a wonderful tool for correcting alignment, finding balance, and building core strength.
It can shed light on habitual patterns of movement in your yoga practice, allowing you to consciously correct these imbalances.

*for yogis: gain a fresh perspective on ways to feel into disconnected areas of your body
through hooping
*for hoopers: learn new ways to become one with your hoop through yoga, breath work
and meditation
*for everyone: build a deeper relationship with yourself and your inner child, find pure happiness and inner joy
*No hooping experience necessary, though it is recommended that you have some knowledge of basic yoga postures.
Led by Allison Scott, RYT 500hr & Registered Ayurvedic Yoga Teacher
WHEN: Saturday, September 30th
TIME: 11am-12:45pm
PRICE: $30, or 3 Class Passes for 8/$80 members
*VERY LIMITED SPACE...PRE-REGISTRATION ONLY*
(Refunds can be given up until the day of the workshop)
- - - - - - -
"Yoga brought my heart to center stage. Yoga is a kind of turning in. It's about connecting to the Source, to your Divine essence. In that process, you see the strength of your own heart and your particular authenticity. Hooping is a turning out, an ecstatic, visceral celebration of that connection." -Shakti Sunfire

Yin Yoga & Thai Massage

with

Christine

Harrelson
Sun, Nov 26, 2017 at 4:00 pm - 6:00 pm
Receive a series of passive stretches, assisted yoga postures, and rhythmic muscle & tissue massage as you move through a sequence of Yin postures designed to relax and release connective tissue. We will stimulate energetic meridians associated with the fire element/summer: the heart and small intestine meridians.
Thai massage helps open up mobility in the joins, melt sticky muscle, and stimulates blood, lamp, and energy/prana flow. Please wear cotton-like clothing that covers the legs and arms.
Led by Christine Harrelson, RYT 500hr & Advanced Thai Bodyworker.
WHEN: Sunday, Nov. 26th 2017
TIME: 4:00-6:00pm
COST: $30, or 3 class passes for 8/$80 members
*VERY LIMITED SPACE...PRE-REGISTRATION ONLY*
(refunds can be given up until the day of the workshop)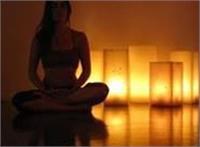 Bring in the Winter Solstice

with

Elizabeth

Butler
Wed, Dec 20, 2017 at 4:00 pm - 4:00 pm
Celebrate in the warmth of your practice as we recognize and celebrate the Winter Solstice. Pause--then move and breathe. Take time for yourself during this busy and wonderful time of year to stretch your body (instead of your budget lol). Come practice slowing down, self-love, and have an overall good time throughout this candlelit class. We will mindfully move our way through each pose, linking the breath with each stretch, and allowing for the space to feel and explore in each posture.
Solstice comes from the Latin "sol" (sun) and "sisters" (to stand still). Find stillness in this asana practice, recongizing the changing directions of the sun. We hope to see you there!
WHEN: Wednesday, Dec. 20th
TIME: 6pm- TBD
COST: $20, or 2 class passes for 8/$80 members
(refunds can be given up until the day of the workshop)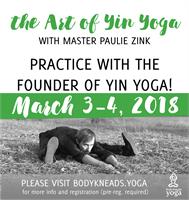 Yin Yoga with Paulie Zink
Master Paulie Zink is the founder of Yin yoga. He received intensive private training for ten years as the sole protegé of Chinese Chi kung and Kung fu Master Cho Chat Ling from Hong Kong. As a three time international martial arts grand-champion, Paulie is renowned for his fluidity, flexibility and artistry of motion. Through his many years of practice and study, Paulie continues to evolve his distinctive dynamic style of yoga that is rooted in the ancient Taoist tradition he learned.With his relaxed and playful demeanor, students find him to be a very approachable and enjoyable teacher. He brings to his teaching over 35 years of experience and a profound knowledge he conveys with a simple clarity that comes from true understanding......Course runs March 3-4, 2018....10am-2:30pm (each day, 30minute break)...$60/one class, $110/two classes, $200/all four classes (best deal!!).....**on the enrollment screen you will be able to select the day(s) you wish to attend**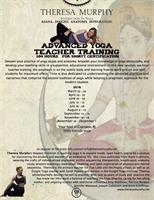 300hr Teacher Training with Theresa Murphy

with

Theresa

Murphy
Next held on Fri, Mar 23, 2018 at 8:00 am - 6:00 pm
This
enrollment
runs from Fri Mar 23, 2018 - Sat Dec 1, 2018
Deepen your practice of yoga asana and anatomy, broaden your knowledge of yoga philosophy, and develop your teaching skills. Emphasis is on the subtle body and learning how to work one on one with students. Time is also dedicated to understanding the advanced practices and narratives that comprise the ancient tradition of yoga.
Theresa is the primary teacher for Tias Little and the Prajna school, as well as an insight Yoga teacher with Sarah Powers and mentor in the insight Yoga institute.
Dates:
March 23-25
April 20-22
June 22-24
July 12-15* and July 26-29*
Aug 9-12*
Sept 14-16
Nov. 16-18
Nov. 30-Dec. 1
Schedule as follows:
Fri, Sat, Sun
8am-12pm & 1:30-6
*(in July & August this will include Thursday too for a "summer intensive")
learn more about Theresa at: theresamurphy.net
Online registration is full or unavailable. Please contact us for details.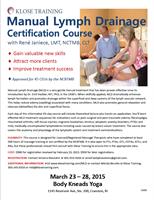 Manual Lymphatic Drainage Certification Course

with

Body Kneads,

inc.
Next held on Sat, Mar 24, 2018 at 8:00 am - 5:00 pm
This
enrollment
runs from Sat Mar 24, 2018 - Wed Mar 28, 2018
Course Description:
This engaging 5½ day MLD certification course is based on the techniques developed by Dr. Emil Vodder, Ph.D., MT. When skillfully applied, this therapeutic form of soft-tissue mobilization dramatically enhances lymph formation and promotes drainage within the superficial and deep systems of the lymph vascular network.
During this course, students will be instructed in anatomy and physiology of the lymphatic system. Basic MLD treatment sequences as well as MLD treatment sequences for mild, medically-uncomplicated upper and lower extremity lymphedema will be demonstrated and practiced. Each day will be divided into two sections: theoretical and hands-on application.
Prerequisites:
This course is designed for Licensed/Registered Massage Therapists who have 500 hours of massage education or are certified through the NCBTMB. PTs, PTAs, OTs, COTAs, ATCs, and RNs may also take this course but should first consult with Klose Training to ensure it is appropriate for their needs.
Tuition:
The total cost of the course is $950.00. Depending on the host school's registration process, you may be able to make a deposit and pay the remaining balance when the course starts. Please see the Upcoming Schedule information below to contact a representative at the host school who can explain your payment options.
Course Objectives:
Upon completion of the course, students will be able to:
- Demonstrate an understanding of the anatomy and the relevant scientific terminology related to the lymphatic system.
- Demonstrate an understanding of the differentiation between the normal and diseased states of the lymphatic system (physiology and pathophysiology of the lymphatic system).
- Demonstrate an understanding of the indications and contraindications related to the use of MLD.
- Competently perform the techniques of MLD for all body areas.
- Develop appropriate treatment strategies for indications such as post-surgical edema, post-traumatic edema, fibromyalgia, general detoxification and other conditions.
- Competently perform MLD on clients after breast surgery for cancer (clients who are at risk of developing lymphedema).
- Competently perform MLD on clients with mild, medically-uncomplicated primary or secondary lymphedema.
Disability Accommodations:
All classes are held in accessible hotels or medical facilities. In addition, Klose Training is committed to providing reasonable accommodations to individual students who have a disability. Students should call Klose Training directly (303-245-0333) at least three weeks before the start of their class to discuss their needs.
*Registration must be completed through the following link: http://www.bodykneadsinc.com/ceu-registration.html
Online registration is full or unavailable. Please contact us for details.