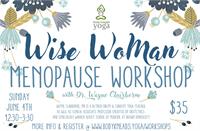 Menopause Workshop with Dr. Wanye Clairborne

with

Dr. Wayne

Clairborne
Sun, Jun 4, 2017 at 12:30 pm - 3:30 pm
This workshop with Dr. Wayne Clairborne (a retired OBGYN and current yoga instructor) is designed to discuss the climacteric—the transitional process of decreased reproductive capacity in women culminating in the menopause.
We will review the physiologic and anatomic changes inherent in the climacteric including changes in heart and bone health and their management. The pros and cons of hormone replacement will be discussed as well as supplement use for the reduction in symptoms and improved quality of life. Additionally, the benefit of a regular exercise program will be reviewed.
There will be a gentle vinyasa (flow) yoga practice to elevate the mood and induce smiling and laughter.
Questions are invited throughout the presentation.
Dr. Wayne Clairborne, MD (retired OBGYN & current yoga teacher)
Clinical Associate Professor Emeritus of Obstetrics and Gynecology
Warren Alpert School of Medicine
Brown University
WHEN: Sunday, June 4th
TIME: 12:30-3:30 (short break in between!)
PRICE: $35